to the Internet Home of the America First Party
The central focus of the America First Party is to put America and all Americans First. We will elect candidates who will restore morality, ethics, and common sense to public service. We will return our Constitution to its proper place in our Republic.
We urge you to join us and get involved. The America First Party is committed to reclaiming our great nation. Get involved now! (Read more here...)

Why America Needs the America First Party...

Why YOU Should Join With Us...


---

Ron Paul and the Agony of Defeat
Will Patriots Ever Learn?
John Pittman Hey writes: "Paul never had a prayer of gaining the nomination for one simple reason: Republican Party members do not agree with his principles or his policies. He didnít lose because he was cheated, or because the Republican voters didnít know where he stood. He lost because Republicans hate his ideas."
Read the full article here ...
Skyrocketing Medical Costs
Jon Hill writes: "Fear and lack of information lead some to embrace the concept of a government health care system. One thing is for sure, though. There would be little risk of implementing a national health care system if lawmakers respected the basic requirements of the U.S. Constitution."
Read the full article here ...
The Moral Duty to Cut and Run
Why America Must Lose the War in Iraq
John Pittman Hey writes: "There can be no reasonable doubt that our invasion of Iraq is a war of aggression against that nation, for Iraq posed no imminent threat against our country or its people. It had not the ability, nor even the intent, to jeopardize our existence. We had no serious cause of disagreement with Iraq to justify war."
Read the full article here ...
Inflation - The People's Enemy
and Tool of the Expansionary State
Jon Hill writes: "The Constitution makes it clear that it was the intention of the founders, who were formed by their experiences, that we be on a coined-money currency standard."
Read the full article here ...
North American Legislatures to Receive Integration Proposals on September 30th
Jon Hill and J.C. Schweingrouber write: "Industry and government elites cleverly, stealthily, and incrementally advance their cause of 'harmonizing' the trade, immigration, transportation, and security policies of Mexico, Canada, and the U.S."
Read the full article here ...
The National Debt - Will It Reach $1 Zillion?
Perhaps it will take an economic collapse before Americans realize that the course they have chosen, that of an expansive federal government, is unsustainable, and that returning to the wisdom of the founders is the proper solution. Read the full article here ...
---

America First Party in the News
October 23, 2008 - English AlJazeera Television
Party Chairman Interviewed by AlJazeera TV
April 8, 2008 - Cherry Creek News
Newspaper Republishes Party Press Release
January 2, 2007 - Agape Press
Cloned Animals in Food Supply a Bad Step, Groups Say
January 1, 2007 - Henderson Daily Dispatch
D.C. doesn't get it
January 31, 2005 - Agape Press
Iowa Rep. Claims Life High on Congress's Agenda; Some Pro-Lifers Doubtful
October 17, 2004 - Lakeland Florida Ledger
THE OTHER PARTIES: Political Affiliations in Polk Stretch Way Beyond Republican and Democrat
December 1, 2003 - The Empire Page
The Bush Jr. and Cheney Record of Failure
November 24, 2003 - American Free Press
America First Party Chair Builds From Grassroots Up
May 19, 2003 - WorldNetDaily
Will House take up renewal of gun ban? - "A firearm, be it single shot or semi-automatic, is protected equally by the Constitution. A free people do not need permission to own guns," - Frank Hackl, AFP-WI Chairman
May 7, 2003 - Massachusetts News
Ray Flynn Salutes Activists of Mass. 'America First Party'
April 11, 2003 - South Marion (FL) Citizen
America First Looking for Support
April 9, 2003 - World Net Daily
Parties weigh in on Iraq war - The America First Party ... is supportive of U.S. troops but last week adopted a policy condemning the war.
March 21, 2003 - South Marion (FL) Citizen
America First - It's a New Party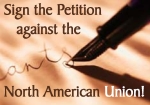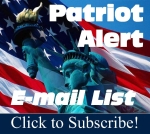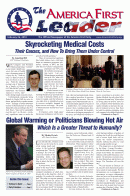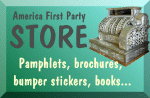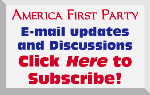 Today's Opinions

Last Updated Saturday
Sep 29, 13:04 CDT

GLENN GREENWALD
US Government jails man for feeding his family in Iraq -

...what makes this case particularly horrific is that the suffering Hamoodi sought to alleviate was caused by the very same US government that is now imprisoning him for his humanitarianism. The reason his relatives were starving and living in abject misery was precisely because the US government enforced years of brutal sanctions. To have that same government then turn around and punish him for the "crime" of helping his family members survive is warped sadism. I really don't see how prosecutors and judges who participate in these sorts of travesties can live with themselves. Worse, US officials who twice completely destroyed Iraq - first with the sanctions regime, then with an aggressive war - are permitted to thrive in freedom and enrich themselves.
JOHN W. WHITEHEAD
Guantanamo Bay: The Model for an American Police State? -

Yet what most Americans fail to realize, however, is that Guantanamo Bay is no different from every other aspect of America's military empire, whether it be weaponry or military strategy, which has been tested against so-called "insurgents" abroad only to be brought home and used against American citizens. In this way, we are being conditioned to not only tolerate the government's constant undermining of our freedoms but to actually condone the increasing assaults of our rights in the name of national security. To put it more bluntly, we are being conditioned to live as prisoners in an Orwellian police state. Worse, we are being taught to enjoy our prison walls.
GLENN GREENWALD
America's hierarchy of human life -

It's as though there are two types of crimes: killing, and then the killing of Americans. The way in which that latter phrase is so often invoked, with such intensity, emotion and scorn, reveals that it is viewed as the supreme crime: this is not just the tragic deaths of individuals, but a blow against the Empire; it therefore sparks particular offense. It is redolent of those in conquered lands being told they will be severely punished because they have raised their hand against a citizen of Rome.
JOHN W. WHITEHEAD
Welcome to the American Gulag: Using Involuntary Commitment -

Of course, this is all part of a larger trend in American governance whereby dissent is criminalized and pathologized, and dissenters are censored, silenced or declared unfit for society. Governmental authorities at all levels have made it abundantly clear that they want no one questioning their authority. And for those who do take to the streets to express their opinions and beliefs, rows of riot police, clad in jackboots, military vests, and helmets, holding batons, stun guns, assault rifles, and sometimes even grenade launchers, are there to keep them in line.
KAREN KWIATKOWSKI
What I Saw at the Convention -

I spent a day of my life at the 2012 Republican Convention. The plan was to stay for full four days, but the choreographed and staged "decision-making" made the 2,000 plus delegates irrelevant. Republican Party members hoping to see democracy in action were left staring at a fuzzy gray screen, listening to static, beating their heads against padded white walls. No free man would subject himself to such idiocy. As Doug Wead so delightfully put it, the party has been reduced to "ten fat men sitting in a room."

The America First Party does not necessarily endorse all the opinions expressed in the above linked external articles. The opinions expressed are those of the authors, who do not speak for the Party.